I am loving Hollie's idea for Follow Friday blog version!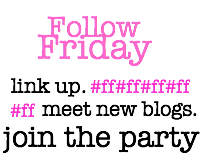 I'm a little uninspired to post anything today. You may have seen this tweet from me yesterday...
I found out yesterday that my grandma (I call her Mana -- like mama but with an 'n') has ovarian cancer. She has been in the hospital for 2 weeks and got to go home on Tuesday & I thought that meant everything was a-okay. I was heartbroken when my mom called yesterday to say the doctor's called with biopsy results that showed ovarian cancer.
My dad's mom passed away from breast cancer, and Mana has had breast cancer too, so I am just praying that God will heal her! She is so young & active & plus, she said being a great-grandmother is on her bucket list. I am not ready to make you a great-grandma just yet, Mana!
Mana is so strong, I know she will fight this will everything she has. I am just a little sad today.
I am not posting this for sympathy, but to ask for prayer. Please pray for healing for my sweet grandma! Thank you, friends.
"For I will restore health to you and heal you of your wounds," says the Lord.
-Jeremiah 30:17
Here are my Mana and Papa, who've been married for over 50 years.
I love you both so much and look up to you now that I am married. Thank you for supporting me through everything I've ever chosen to do, I love you dearly. Stay Strong Mana!!!
*******************************
And on a lighter note, don't forget to link up with Molly and me for Makeover Monday - Haircare edition! [my personal favorite] This coming Monday!